Seed sense #10
Pushing the season?  Of course!  What else have we to do besides watching our seedlings grow and dreaming of fresh tomatoes and grilled baby zucchini?  Or are you just one of those people who wear white shoes before Memorial day and don't care?  Tread lightly oh fearless one!  Planting on Mother's day is no longer the norm for Door County.
Was it ever?
More frost touched evenings are on their way and waking up to the heartache of wilted and collapsed plants is not worth the few days of joy your planted garden gave you.  I am lucky to work for a beautiful garden center that opened this last weekend for safe distance shopping and curbside.  Amazing how many people just need the feel good  experience of being in a green house.  Pushing the season?  Yes they were!  begonias, coleus, new guinea impatients, dahlias, hanging baskets, to name a few were being lovingly selected.  I saw it as my nosey noserton duty to warn them about not leaving those plants out over night yet.  It is too early.  Truely!   Some of those plants will never recover from temperatures under 40 degrees.  The bottom line for each and everyone of the people I cornered was they "just wanted to see some beauty."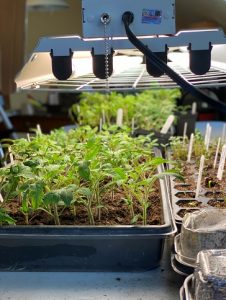 I know, I know, but……
On another topic, my seedlings are going gang busters and I'm running out of room.  Note to self, grow less next year.  I am putting out my flat of nasturtiums everyday to get some sun.  I've also sorted out the cosmos, calendula, parsley, and dill to get some sun.  This will also prepare the later group for the cold frame which will permit more exposure under the growing lights my other seedlings like tomatoes, basil and peppers are requiring.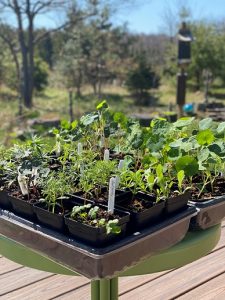 Why not put the nasturtium in the cold frame?  Well, I looked them up and yes, they may come back after some frost exposure but they will die to the ground from a hard freeze.  Would you want to risk losing plants you have babied from seed for weeks?  Nope.
Planting?  I managed to seed some beets between the rows of garlic. When the beets are harvested, there will be room for a row of turnips while still having the space filled with the garlic plants.  Speaking of which, garlic is a bulb and would benefit from some balanced slow release fertilizer now.  The spinach I planted and the arugula are now coming up nicely and yes,  in case you remember my earlier post, the row of pelleted spinach seed took longer to germinate than the non pelleted seed variety.
I would like to start some squash and cucumber inside but I do not have room!  Nice thing about those seeds is that I can direct seed them in the garden 1 week before the last frost date and they will quickly germinate.
Have you been wondering if the viability test on my saved zinnia seed produced any worthy results? (Post #9)  Yes!!!  Enough of the seed sprouted that I plan to direct seed them in a large area near my vegetable gardens after the fear of frost is over.
I'll leave you with this thought as you plan your vegetable gardens.  Inter-plant flowers!  They bring in the pollinators, add diversity, attract beneficial insects, suppress pests, and they are pretty.  Nasturtiums attract aphids, marigolds repel insect pests from tomatoes, squash, beans, eggplant and potatoes.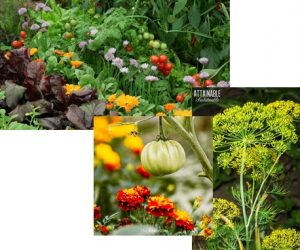 Plant some cilantro and dill among the vegetables and let them go to flower.  Besides attracting the Swallowtail butterfly and her larvae, the flowers attract the parasitic wasp that lays her eggs on some of those pesky cabbage loopers and what nots that feast on our crops.  When the eggs hatch, the larvae will have their meal right there. Cool huh?