Seed Sense #11
2/3 weeks BLF date and I'm feeling hopeful. Temperature in the 60's is being promised for the weekend! Oh yay. I really believe no one appreciates Spring and warmer temperatures more than we do in Door County!
Technically our zone 5 has May 16 as the last frost date despite the National Weather Bureau reporting a 30 -40% chance of frost for that date and less than 20% chance for May 31. Which would you choose?
I was told this week by a Door County man who hails from a long line of farmers that the family vegetable gardens were always planted on Memorial weekend. That's good sound experience advice I can relate to.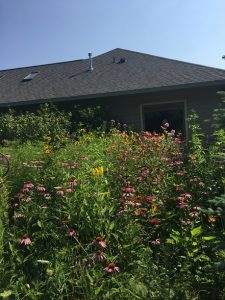 Have you finished all your early cool season crop seeds and are looking for something to do? Now would be a good time to finish pruning the non flowering shrubs, cutting new edges to the flower and shrub beds, amend soil if you haven't yet and…. Yes, I'm going to say the W word, weed.
Weeding?! Not my fave activity.
My gardened areas are located on the edges of 7 acres and is bordered by a wild flower meadow, some of it cultivated some not, and woods. Weeds are a constant battle.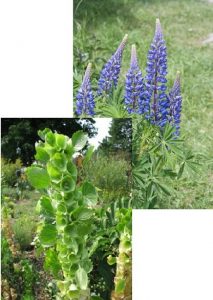 I tend to procrastinate weeding. One of the main reasons is, I, unlike many more tidier gardeners, purposefully leave the flower heads of known self seeders in the gardens to do what they promise, self seed.
 Some of those seeds, like Lupins, prefer light to germinate. Therefore, taking the seed head off of the flower and shaking it about in Fall, will leave those hard little seeds on the surface of the soil and by Spring, voila! More Lupins!
The same for Bells of Ireland, Mouccella laevis. A cool weather annual that has to be cold stratified for a minimum of 30 days in your refrigerator if you plan to start the plants by seed.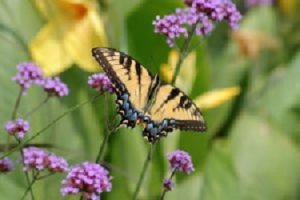 The bells like the Lupin, requires light to germinate. I still have a package of Bells of Ireland seeds in my refrigerator along with the native Rudebeckia hirta just in case the seeds in my garden don't produce. I also spread the annual poppy seeds in early Spring around the beds. Poppies like it cool too and need light to germinate.
I always look forward to seeing another known self seeder, Verbena bonariensis, whose purple flower balls attract the Swallow tail butterfly and other pollinators. These narrow and branching plants weave in and out of more robust varieties. They stand tall, wave and bob their spheres proudly above the garden.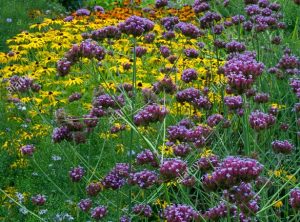 So if you need a good excuse not to weed or mulch your flower garden beds, leave some of those beauties in the garden for mother nature to grow and don't disturb the soil for several weeks. You will reap the benefits of a beautiful and diversified garden.
Speaking of self seeding, dill, mustard and calendula are all showing up in my herb and vegetable beds. Super!