Winter Seed Sowing Demo
Thursday, January 26, 11am – noon
Kress Pavilion, Egg Harbor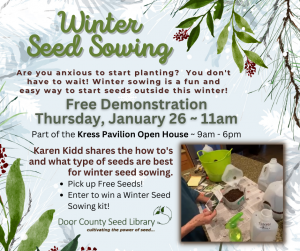 Offered as part of the Kress Pavilion Winter Open House Event (9 am to 6 pm)
The Door County Seed Library is hosting a Successful Winter Seed Sowing demonstration by veteran gardener Karen Kidd, a Door County resident and former Door County Master Gardener. Karen has been happily practicing winter sowing techniques for years.
Winter sowing is a fun and exciting technique for growing hardy and beautiful plants, flowers, herbs, and vegetables. And you can start as early as January! You can get your garden started without the fuss of seed starting kits, heat lamps, and yards of counter space.
Guests can also pick up free seeds and enter to win a Winter Seed Sowing kit!